Videos
Find out why Obama cares about your right to choose – and how his views differ from Romney.
Blog
July 24, 2014 By Carmen Rios Leave a Comment
Representative Carolyn Maloney and Jackie Speier gathered feminist leaders and activists in front of the Supreme Court steps today to send a clear message: We need the Equal Rights Amendment, and we need it now!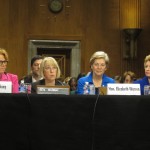 June 27, 2014 By Eleanor Smeal Leave a Comment
Senator Barbara Boxer (D-CA) just held a breakthrough hearing on combating violence against women with IVAWA and CEDAW, and
seven women senators testified. We must thank the Senators for demanding action.
May 2, 2014 By Carmen Rios Leave a Comment
We need your help! Take action now to stop the imposition of these Taliban-like laws.
Press Releases
FOR IMMEDIATE RELEASE July 23, 2014 J.T. Johnson ∙ Office – (703) 522-2214 ∙ Cell – (202) 681-7251jessica@feministmajority.org Facebook.com/FeministMajority @femmajority Thursday: Rally To Ratify the ERA Now! WHEN:Thursday, July 24, 2014 WHERE:Sidewalk in front of the U.S. Supreme Court1 First St, NE, Washington, DC MEDIA AVAILABILITY: Eleanor Smeal, Feminist Majority President WASHINGTON – Thursday at 9:00 a.m., Rep…. [Continue Reading]
FOR IMMEDIATE RELEASE June 24, 2014 J.T. Johnson ∙ (703) 522-2214 jjohnson@feminist.org Facebook.com/FeministMajority @femmajority Women Demand Ratification of CEDAW WASHINGTON – Today, the Feminist Majority joins with Sen. Barbara Boxer (D-CA) and women of the Senate in decrying violence against women and girls across the globe, and calls on the Senate to take action to… [Continue Reading]
"Ten years ago, FM staff and supporters carried signs demanding that legislators 'Stop the War on Women.' Although we've certainly come far since 2004, that war has continued to threaten many of our victories. Today, we are not only looking back, but marching forward."